It all started with my last (failing) bicycle startup.
Yes, I was naive. I love them retro-looking, single-gear bicycles. That beautifully-lugged frame is something I will forever be enamoured with. So in 2012, while living in San Francisco, I started a custom bike company called Passion Bicycle. We sold custom-built single-gear cycles with a twist: as a premium service, all our bikes came with fitting and assembly from top-notch, professional mechanics.
We ended up selling some bikes, which is always a good thing. Still, it didn't take long before I realised just how daunting the challenges of bike manufacturing, shipping and selling actually were.
I ran Passion Bicycle for just over a year. Learned a lot about the ins and outs of the business. Yet by far the most precious part of the experience was getting to know the bike mechanics we ended up working with. They are all so insanely passionate about bicycles, it's impossible for anyone not to catch the two-wheeler fever along the way. So I did.
I love bicycle mechanics.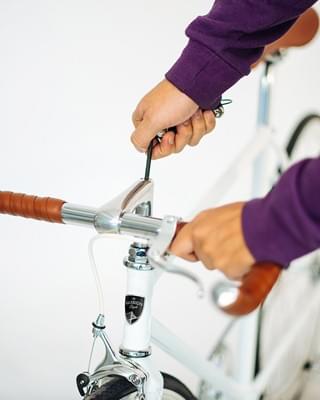 Do you feel joy from your work? It's a question we all ask ourselves, from our early 20's all the way 'till...well, I'll let you know. Mechanics are the lucky ones. Most of them are truly happy with what they do. But in a true ancient Greek twist, their blessing is also their curse. Sure, they love what they do, but most are being paid peanuts for it. Not literally, although sometimes it's really not that far off.
San Francisco is a relatively expensive city, much in a way Warren Buffett is a relatively wealthy man. Earning close-to-minimal wage is by no means enough. Many of the mechanics I worked with needed to get another job just to get by.
After I moved back to London, I found the same to be true for the mechanics here - if not worse. They're also being paid close-to-minimal wage, however - unlike California - the sun doesn't shine all year round in London town (something you do learn to appreciate). So a local mechanic also needs to adapt to the brutally seasonal nature of cycling. Come wintertime, their workload dries out almost completely.
A startup for bike mechanics
Failing to hit the targets, I decided to cut my losses and close Passion Bicycle. A different question was now occupying my mind anyway: how can I leverage tech and innovative business practices to help struggling bike mechanics?
Before I could answer that question, I first needed to find out why most bicycle shops are paying their mechanics so little in the first place. I kinda hoped they were all just evil corporate snobs pocketing cash and getting visited by three ghosts over Christmas.
The truth is, most brick-and-mortar bike shops are fighting for survival themselves. They're facing increasingly fierce competition from online retailers. And unlike their digital counterparts, they also need to pay considerable rent for any decent high-street spot (dependent highly on the foot traffic).
Not only can the shops not afford to pay their workers well, they can easily get away with it too: there are just too many bike mechanics, and not enough broken bikes to go around.
With that in mind and after ten years in the startup world, I couldn't help but think: is having a physical bike shop valuable anymore? Is it even necessary to deliver good services?
What if we could change the way bicycle services are delivered, for the better? Without a physical location, we could engage with cyclists easily through a web or mobile app. Our mechanics could repair bikes at the customer's home or office, rather than hassling the cyclists to come to them. That way, we could offer a more convenient service at a better price. And with the lower operational costs, we could pay our bike mechanics fairly. It's a win-win!
'It's dangerous to go alone!'
Once I had the idea for Honor Cycles, I immediately started gathering customer feedback. People loved the idea. Sure, the on-demand service model has been a 'thing' in the tech scene for a while now - courtesy of startups like Uber and Deliveroo. Both these companies are growing at a monster rate, and most of the customers are happy with their service. However, in their increasing push for profit, they struggle to take good care of their own drivers/riders.
To make sure I always put bike mechanics first, I knew I had to set this venture up differently. After some research, I decided to make Honor Cycles a social enterprise. Ultimately, I'm very happy with my decision, as it's much more aligned with the overarching mission I have for this business - help bicycle mechanics. However, it also meant that my startup is not going to be suitable for a traditional funding route.
In a weird way, that was a major sigh of relief. After years of chasing investors and boosting my valuation, I'm happy I can finally take a break and actually focus on the product. However, without strong financial incentives, I knew it was going to be difficult to find someone to take this journey with me. So the age old blessing=curse conundrum struck again (damn you, Greeks).
Luckily I met Simon, my co-founder. A bike mechanic-turned designer, his passion for cycling is, unsurprisingly, on another level. He digs the retro bikes too, though, so we're cool.
As an ex mechanic himself, he's vividly clear of the mechanic's daily struggle, which makes him a perfect moral compass for the venture.
Since we formed Honor Cycles in mid-2016, we've been busy running trial services at different tech startups and co-working spaces. It's been good fun, and I now know just how those bike mechanics feel about their work.
2017 is going to be a big one for us. Everything that we've learned in the past year will be set in motion. We're now hard at work prepping for the peak season in the spring and summer.
We're still a small team with a big mission and some kickass 'wheels'. Hopefully, we'll have more people join us for the ride.